Myotherapy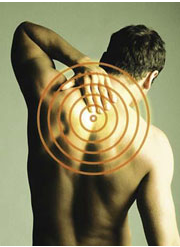 Myotherapy assesses and treats the myofascial pain, discomfort and injury which affects mobility and movement. It is a corrective and preventative
modality which aims to restore and maintain the normal integrity of the soft tissue structure by focusing o­n trigger points in the body.
The Common Conditions that Myotherapists can treat include:
Sporting & Occupational Injuries
Stiffness & Pain associated with poor posture
Associated Joint & Vertebral Dysfunction & Pain
Acute & Chronic Conditions Affecting Function & Mobility
Scoliosis / Kyphosis
Headaches / Migraines
Acute & Chronic Stiff & Painful Neck
Tendonitis, RSI, Tennis/Golfer's Elbow, Carpal Tunnel
Acute & Chronic Back Pain
Shoulder Pain & frozen Shoulder
Hand & Finger Numbness / Tingling
Knee, Leg & Foot Pain – Shin Splints, Patella Tracking Dysfunction, Runners Knee, Ankle Sprains
Arthritis / Multiple Sclerosis
Chronic Fatigue Syndrome, Fibromyalgia
The benefit of Myotherapy is pain relief, but there are many more benefits that can be achieved over time with Myotherapy, such as increased range of
motion, more flexibility, better circulation and reduced stiffness. These benefits all take time and several treatments to achieve. This is because
multiple treatments help to teach the muscles how to move without causing pain.
During your Myotherapy Session, our practitioner will apply pressure to many areas of the body; which will help relieve pain in other parts of th
e body. In our practice Myotherapy is given in conjunction with massage, this is to help relax the patient and lead to better results.
Whether you have sustained an injury, or just seem to have developed trigger points over time, you can start enjoying the benefits of Myotherapy
immediately.